Balsamic Syrup: Not Just for Aristocrats
(Photo courtesy of www.panix.com) To most people in the culinary world, the phrase "balsamic reduction" is nothing new. But if you j...

http://hollypinafore.blogspot.com/2008/03/balsamic-syrup-not-just-for-aristocrats.html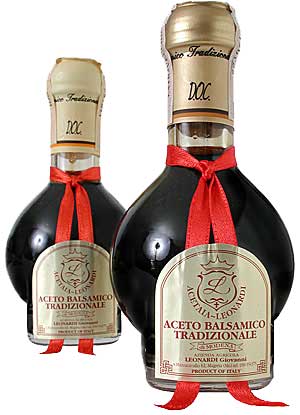 (Photo courtesy of www.panix.com)
To most people in the culinary world, the phrase "balsamic reduction" is nothing new. But if you just started to tune into cooking shows and have suddenly been inspired to create gourmet-style, restaurant-quality meals, you might want to know what the heck it is and how to do it.
Here's a bit of a history lesson for you. According to
thenibble.com
, balsamic vinegar has supposedly been around since the 11th century. The first type was a rich, dark liquid called "laudatum acetum," and it was given to the "soon-to-be Holy Roman Emperor Enrico III of Franconia." And it was available only to aristocrats.
Today, you can buy balsamic vinegar in any grocery store. However, most
vinegar connoisseurs
frown upon "cheap" balsamic and only praise the kind that has been aged in 400-500 year-old wood barrels for a hundred years or more.
Well I certainly can't afford to pay for a "quality" balsamic vinegar that costs anywhere from $110-500 (yes, $500).
Anyway, in my opinion, reducing inexpensive balsamic over high heat (the kind you find for $4-10 per bottle) transforms the quality of ordinary vinegar to that of the "good" stuff. Alright, so maybe it won't be the top-of-the-line, gold label balsamic, but it'll be pretty darn delicious.
So, here's how to do it:
Pour 1 200 ml bottle of balsamic vinegar (should ALWAYS be imported from Italy, called "aceto balsamico di Modena" and made with only grape must—no added sugar or chemicals) into a medium-sized saucepan.
Bring to a boil, then reduce to a simmer. Allow the vinegar to simmer for about 30-40 minutes on the stovetop until it reduces by 3/4. The liquid should be able to coat the back of your spoon like melted chocolate. Turn off the heat and allow it to cool.
That's your basic reduction. How idiot-proof is that?
Some people add a spoon of honey or sugar before it comes to a boil, but I don't think it's necessary; it's sweet enough when reduced.
I do like to add a few sprigs of fresh rosemary, sage, or whatever fresh herbs I have on hand. The herbs give the balsamic an earthy, woodsy flavor that pairs really well with the sweetness.
This vinegar is so versatile—it's perfect as a dip for crusty ciabatta bread, or to drizzle on top of strawberries, pears (my favorite combination), apples (any fruit, really), chicken, wedges of parmesan cheese, salads, etc.

Balsamic syrup is so easy to make, is perfect any time of the year, and is a sure-to-be hit with your friends and family.

Remember to keep it in the refrigerator—it will last for months and months.
I like to keep mine in a fancy glass cruet so people think I bought it at some Italian specialty store.
For more information on what you could do with your balsamic syrup (other than just lick it off your spoon because it's that good), check out
Food Network
or
Home Cooking on about.com
.
Also, here's an interesting video to watch about the history and making of traditional balsamic vinegar!